---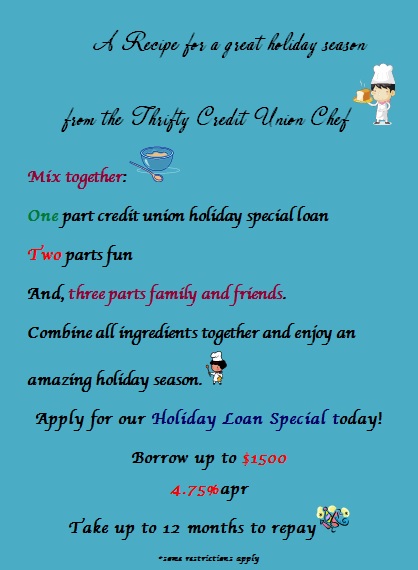 Rates effective as of: January 6 2014
New and Pre-owned Auto Rates
Did you find a lower rate? Ask about Rate Match!
New 2013-2014 2.500 -3.90%APR 36-72mos
Pre-owned 4.250% 36-60mos.*Ask about our specials
Qualified applicants-No Refinancing-Rates are subject to change without notice.
Cars-Trucks-Campers-Recreational Vehicles
Ask about GAP Protection
Life/Disability Coverage
CONSUMER SECURITY ALERT

Reports abound (e.g.
NY Times
,
Krebs on Security
,
Hold Security
, etc.) that Russian cyber thieves may have acquired 1.2 billion unique username and password combinations, and more than 500 million email addresses from 420,000 websites.

Regardless of whether such reports are accurate, we recommend a review of related data security principles and practices in light of this and other potential compromises.

Focus on the Highest Risk Accounts:

Some accounts represent greater risk than others. Accounts that require special attention include:
1.
Email Accounts
. Significantly, email accounts are often used to notify users of modifications or requests made in other accounts, for example requests for password or designated email address changes.

2.
Accounts that provide access to sensitive personal financial information
, e.g. online banking, 401K, IRA, stock trading, access to organization-confidential information, etc.
Ensure Sensitive Accounts:
1.
Have unique passwords
, i.e. DO NOT use the same password on multiple accounts.

2.
Use the strongest password
(length and complexity) that the application will allow.

3.
Use 2-factor authentication
and other additional authentication techniques where available.
At a Minimum Do the Following:
1.

If you have used the same password on multiple sensitive accounts, create new unique passwords for each of them.

2.

If you have used weak passwords on sensitive accounts, replace them with strong passwords.
Key takeaway – this is not the first time passwords and email addresses have been compromised, and certainly won't be the last. Make sure you have an actionable strategy in place to protect your sensitive accounts.